Heritage Collection
Cut From a Different Cloth
Discover our combed Egyptian cotton Heritage Collection. A modern take on a traditional Italian style.
SHOP
Express Yourself
---
PREMIUM DRESS SOCKS FOR MEN
The socks are pure expression, with flourishes of mood, personality, and predilections, exposed for the world to see.
Made from the highest quality Egyptian cotton, Fit Elite socks are distinguished by their softness, comfort, and fit. From the world's most luxurious yarns to our skilled craftsmanship and elegant designs, our socks are the finest dress socks made in Italy since 1987. 
---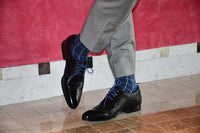 Our Craftsmanship
---
QUALITY SOCKS CRAFTED THE ITALIAN WAY
All Fit Elite socks are entirely made in Italy in a family run artisan factory, where the science of quality sock knitting has been passed down through generations.
---
Italian Craftsmanship
---
FINE GAUGE KNIT FOR FINER SOCKS
All of our fine gauge socks are made on the circular knitting Lonati machines with at least 200 needles, creating noticeably finer socks.
Due to a denser stitching, the durability of the fabric is retained, resulting in a lighter and longer lasting dress sock, characterized by a smooth and well defined texture.
---
Premium Yarns
---
LONG STAPLE EGYPTIAN COTTON
Characterized by the length, fineness, and strength of its fibers, the unique properties of long staple Egyptian cotton allow it to be spun into finer and smoother yarns, not only making our dress socks softer and more durable, but also giving them their natural silky look.
Prized for its absorption and moisture management qualities, Egyptian cotton creates socks that are breathable and gentle to the skin, with deeper and more vibrant colors.
---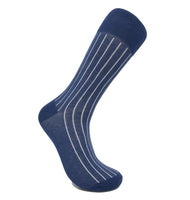 The Fit Elite Difference
---
PURE COMFORT AND FIT
With the help of advanced sock knitting technology, by calibrating the tension and strength of the individual areas of the sock, our engineers are able to design a product of exceptional comfort and fit.
Our calf is made with controlled tension to ensure the socks stay up without putting too much pressure on the foot, and our heel and toe areas are reinforced in to ensure a longer lasting garment.
Finally, to avoid an obvious seam at the front of the sock, we use the next generation toe linking technology to automatically machine close our socks, creating an extra fine seamless toe link that is unnoticeable on your feet.